Celebrating 10 Years
SkyLaw turned 10 in October of 2020!
Inspired by our love for Apple products, we created a special 10th anniversary logo, "SkyLaw X", to commemorate this milestone.

We shared the story of SkyLaw in our blog on the tenth anniversary of the incorporation of SkyLaw Professional Corporation, where we describe how the SkyLaw team came together, the launch of SkyLaw 2.5 in 2005 and the evolution of our firm into the powerhouse that it is today. We also prepared a newsletter that we mailed to our many clients and friends to commemorate this momentous occasion.
Our first decade of business was an amazing journey, and we continue to be incredibly grateful to our clients, friends, colleagues, and everyone else who has contributed to our success over the years.
10th Anniversary Commemorative Painting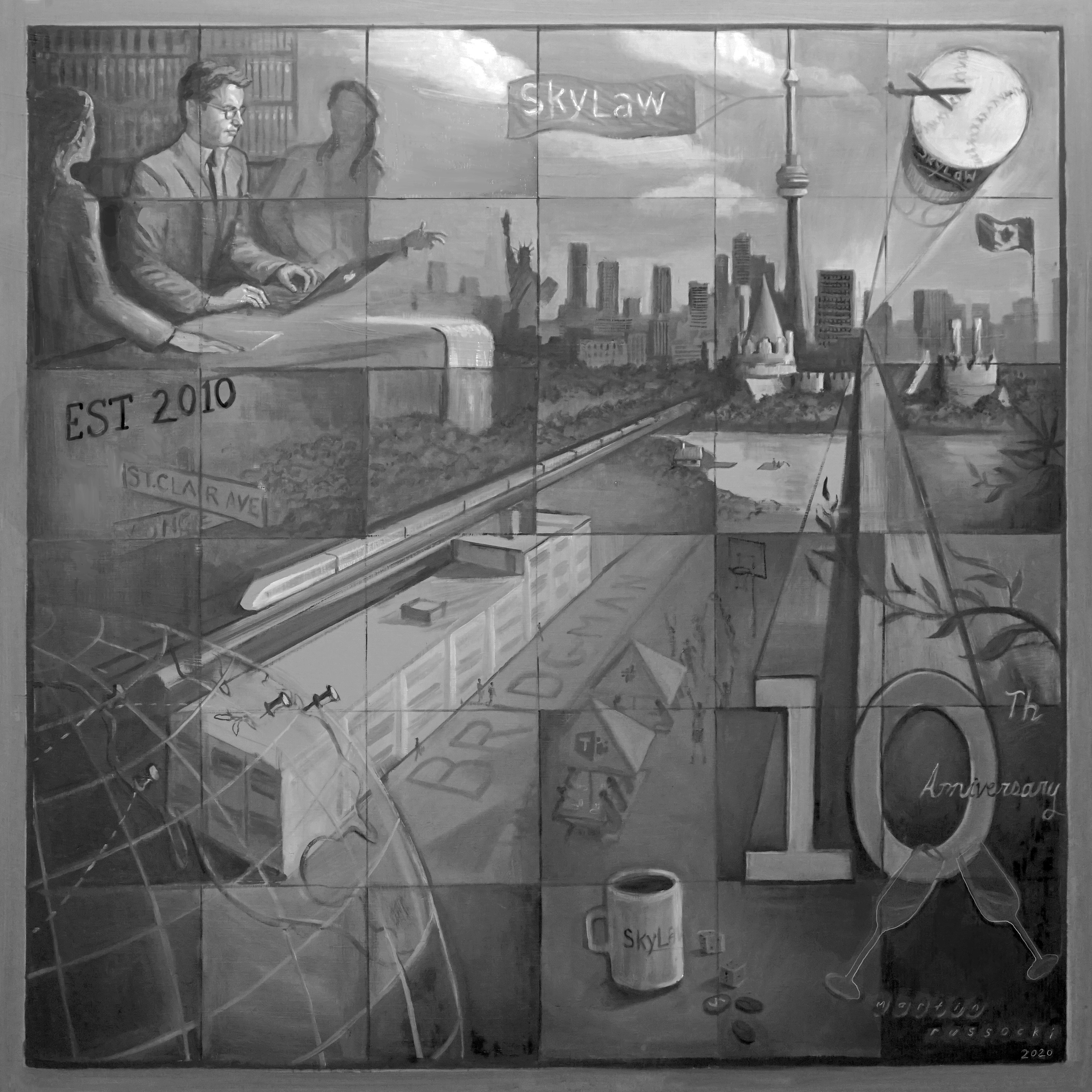 To celebrate, we commissioned a painting by Martin Russocki, a client and great guy who has done several paintings for us previously. Martin worked with us to come up with a very meaningful memento that now hangs in our office. The painting has many symbols of our favourite things from over the years.
Our 10th anniversary painting tells the story of SkyLaw. As you travel from the top left to the bottom right, you can see the evolution of the firm starting in 2010, moving to Floor 2.5 in 2015, and celebrating our 10th anniversary in 2020 with our entire team. The SkyLaw team and alumni shared their memories and important milestones with Martin. Throughout the painting you will find symbolic imagery that we included to represent the important aspects of SkyLaw.
Martin Russocki
10th Anniversary, 2020
Oil on Wood Panel
40" x 40"
SkyLaw Through the Years
The following timeline shows the evolution of our firm, and the growth and progress we had during our first 10 years in business: